Learning electric guitar
Electric guitar and classical guitar, although similar in substance, are two very different instruments. That's why I offer two distinct educational programs.
Alongside teaching the fundamentals, if you want extensive coaching,  initiation or improvement of certain points, such as the composition and ear training for example, we can establish together a specific program.
My three years at the academy went perfectly, classes were held in good spirits, no pressure and no stress which did not prevent us from progressing quickly. Interesting pieces and exercises, and sometimes stories about music, music theory …

— Manon
More testimonies
---
Lessons in short
A qualified and experienced teacher
An effective teaching always at the student service
Lessons for all, from 5 years old
Lessons to suit all levels
Lessons for all styles
An entertaining and pleasant way to learn guitar!
Electric and Acoustic guitar
Whether you are a beginner or experienced guitarist, you will have the insurance  of progressing quickly. The teaching program is fully customizable following your tastes, your needs and your level.
This program is based on four key modules:
Rhythmic Cohesion
Music is about rhythm
Picks and Rhythmic movements
Exercises in different styles
Development of motor reflexes and rhythmic senses
Global earing sense development
---
technical development
More freedom comes from a mastered technic
Finger training : loosening and stretching
Left and right hands technical exercises on specific axes (timing, precision, velocity, flat picking, sweeping, binding, bends, etc …)
Organizing of the practice: setting goals and artistic opening
---
Study of pieces, creativity, improvisation
Learning from others and forging ones style
Stylistic reflexes workout and "Plan cliché types"
Learning songs in styles you like
Working musicality, style and creativity
Scales, modes, triads and arpeggios studies
---
Theory, Harmony
Reading or writing knowing a language means significantly expanding ones capabilities
Methodical and coherent approach of the founding principles of the musical system (Intervals, scales, chords …)
Harmony initiation and sentence structure.
Pieces composition and analysis.
All guitar lessons are detailed, prepared and organized according to an educational program suited to your needs. Lessons are  written in tablature and in standard notation.
Videos
Rack'am – Brétigny-sur-Orge, France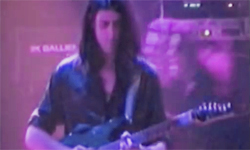 La locomotive – Paris, France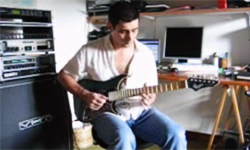 Châtel-Censoir, France